2018 has been an incredibly difficult year. No, not for real estate. 2018 has been difficult for me, personally. Probably the most challenging year that I can recall in my 40 (something) years.
January set the tone for a seemingly dark year. In January, I received a text from my husband (after inquiring how his day was going). "Not good, I don't think Mike is going to make it". He was right. Mike was a young, amazing soul on the earth. He was my husband's co-worker, friend, and a former client of mine. He was involved in a horrific accident doing a job my husband still performs, and tragically Mike lost his life. My husband suffered a lot that day, a lot of people did.
In July, my dad's health started to decline. We were able to get into the VA center in Ivins for 20 days of rehab. During this time, my mom discovered a lump on her side, which caused her to become concerned. She went in for surgery to remove it and during that stay she was diagnosed with Stage IV lung cancer. Her "overnight" expected stay in the hospital turned into six nights. During her stay, my dad was admitted, so I was running between floors checking on them throughout the day. The morning after Dad was admitted was truly frightening, as all of the medical staff prepared me for the loss of my dad. I was alone at that moment, being bombarded with questions I was not prepared to answer. But how can this be!? My mom was downstairs, and she was dealing with post-op delirium, so she was literally on the "crazy train" and didn't even know where she was. When my mom returns to normal and asks "Where is JB?" how will I explain to her that her husband died?
A small ray of light glimmered in and we were granted a temporary stay. Divine intervention? Sheer will? I don't know. My dad bounced back from the brink of death and he and my mom were discharged on the same day. It was a beautiful reunification, for them to see each other in the hospital that day. It was nice to have them home together. My dad did amazing for several weeks but still continued on a decline. With failing kidneys and a failing heart, we moved him to an "at home" hospice care. Mom began chemo and immunotherapy.
October 16th, I woke up early, really early. I drove over to my parents' house and around the time I arrived my dad passed away. It was inevitable, and he didn't want to live in the condition he had involuntarily deteriorated to. So, it was bittersweet to see him go, to let him go. I will miss him every day. Here is his obituary. Three hours after the funeral home left, my mom and I went to the Cancer Center for treatment.
Mom is still doing immunotherapy, and the tumor has reduced, which is wonderful. There will always be this grim reaper hiding over my mom's shoulder, but for now, immunotherapy is getting rid of cancer. She is my rock and I am grateful to continue to have her.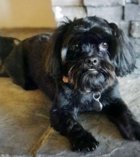 A few weeks ago, I found a little dog that a neighbor had to re-home. Mom has wanted a dog for a long time, this was good timing. This dog, she's a cute little nuisance. She is a needy little thing and has taken over bothering my mom when she's on the computer (my dad used to do this). Mom also decided to get a
new (used) car, so she and I went to pick one out last week. It's perfect for her and should be just the right height to avoid smacking the curbs. I did inherit this from her, some of my clients can attest to this, as I do have a tendency to smack curbs or take turns too close. Rub or jump the curb, that kind of close. My husband cringes if I ask to drive his toy car. I am grateful for these moments.
So, each day has been a challenge. My family keeps me together, they have been the stitching of the proverbial mental "keep it together" sweater. I've lost a lot of focus and haven't done the things I should be doing for my business. But when my family leaves for work and school, and I am alone, the stitching on my mental family sweater is weak. This is where my clients come in. This letter, or post, or file on my computer (I'm still not sure where I'm going with this) is not to ask for pity, or sympathy, or to feel bad for my crappy year. We've had some really fun moments this year too! It's really to say thank you. On days I've really been on the brink of disaster, I get that call. A client, or even just a sign up on my website, followed up by a question "Hey I'd like to see this house today" or "can you send me some homes with a pool?" It forced me, in that collapsing moment, to regain my focus and remain mentally intact. Redirecting my weakness to assist someone that needs my strengths. The strength to my weakened stitching, coming from my business. Coming from my clients. Coming from you.
So, despite a crap-filled year, I do see what I am still grateful for. My husband, my kids, my mom, my family. There are many things, but I am also truly grateful for my clients. I needed you, even though you didn't know it. And you were there for me, even though most of you had no idea.
Yesterday, I received an email from someone I've known about for a while but I have never met. It was about being grateful in the face of increasingly difficult times and to restructure your thinking, to be grateful. Yesterday was also an especially difficult morning for me, so this resonated and it came at just the time I needed it. Thanks for that, Bart. His goal is to change the world one person at a time. This is a good goal, we should all strive for goals like this. So Bart, you too were there for me and for sure awakened something. This is me, just me, my story. Me seeing the blurry light through watery eyes in the dark.
I refuse to linger and wallow in the mess that this year has become. Through all of the "crap" there was the one consistent that kept me balanced, and that was the business that I created. Thank you to the clients who have supported me and been patient when I haven't been as responsive as I should be. I will change my thinking process and I'm redirecting my attention back to my business. I am grateful for each person who I've worked with or I'm currently working with. I still need you. Without you, I would not have my business, and without you, I can not continue to build and grow. So if you're ready, I am too. Let's get back to work. I will act now. This is the time. This is the place. I am the person.
If you're that client who called looking for a pool home, I just listed one! Check it out here: https://www.stgeorgeutrealestate.com/blog/92-s-avallon-drive-st-george-ut-84770/