Sellers who jumped on the caboose of this fast-moving housing train, who are pricing homes at top dollar (and who are being the most stubborn) are likely to be the sellers that will yield the least return. Why?
Now is NOT the time to be overpricing your home in St George, Utah.
We are heading into the Parade of Homes (in February), so any seller who has been thinking of listing their home will likely do so in the next 30 days. Builders are finishing their new construction spec homes like Hershey Kisses on a production line. Your competition is about to be insane, and keep in mind while sales DO increase in February (during the Parade), your overpriced home is going to be tossed into the listing abyss because there are too many other homes to see that are well-priced and ready. Buyers don't have the patience to sift through overpriced homes that may be inclined to reduce if they make a reasonable offer (especially when there are many other choices).
Most buyers agents are willing to show 4-10 homes to a buyer, and those homes will be the BEST MATCH for what the buyer is looking for AND within the buyer's price point. So instantly, your overpriced home is on the back burner. Maybe you'll get lucky, and the buyer won't find exactly what they want in the first round. So perhaps your home will get reeled in for round two…after the buyer is physically and emotionally tired from seeing other houses, or perhaps they already made an offer or two…only to suffer defeat. Now, this potentially exhausted buyer is expected to step up and formulate a reasonable offer? They won't do it.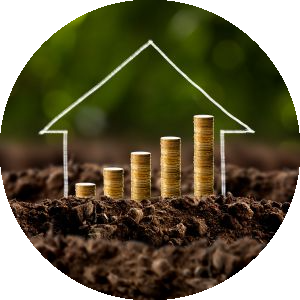 You're relying on a strong agent to pull this out for you, and I'm going to be honest, there aren't many! I happen to be an agent who does seek out overpriced homes, so I can make a realistic offer and have no competition. But why would you want to sell your house with no competition? It's great for buyers but not such an excellent strategy for sellers. Sellers who overprice will learn very soon about "chasing the market." This is a strategy that sellers unintentionally utilize when they are priced too high. The market slides or underperforms, forcing them to reduce (and usually wait too long to do this). Now….the market is flooded with new inventory, and sales are stagnant (or slower), so motivated sellers are wheelin' and dealin' and reducing their prices to get their home ahead of the competition and ultimately sold. Those well-priced homes are sold in a matter of days (even in our previous market declines, well-priced homes go quickly). So guess what that sold home is? YOUR COMPARABLE. Now….30 days later….a new crop of buyers has arrived, and they are still casting your home into the abyss because with these new recent sales, your home is overpriced….AGAIN…..and the process repeats. You keep lowering the price, but you're too late. I've seen it over and over….9 – 12 months later….2 or 3 agents later….you FINALLY take some advice (typically your first agent probably gave you), and you price RIGHT….boom….sold. Most of the time, however, you'll be selling for less than you would have if you had priced it right 9 months ago.
Don't chase the market. Price your home well from the beginning. I always encourage starting on the higher side of the expected sales range because you may have something unique or coveted (a pool, a view, a larger yard, etc....), but if you're not getting buyer traffic, it's time to reduce.
I am Paula Smith, Associate Broker with RealtyPath of St George. I have been a licensed, full-time real estate agent in Southern Utah since 2006. I have been selling residential real estate during the market changes and witnessing our St George area grow to become one of the fastest-growing cities in America. I keep my finger on the pulse and not only pay attention to what is going on, but I've also been able to predict what's to come accurately.
Allow me to be of assistance and earn your business. If you've got a home in Southern Utah that you're thinking of selling and you'd like a property market report, I can send that to you.
If you're ready to buy or sell, I'm prepared to make it happen.
Find Paula Smith on Facebook