Fall is in full swing here in St George.  It's a beautiful time to enjoy the 24 hour open window worthy days, where it's just about as perfect of weather as you can find.   The real estate market report is finally being updated, in this report I'll offer a look at the current market and offer some opinions as to what is in store for the St George Utah real estate market conditions. 
As of today (October 22, 2014) here is our snapshot for Greater St George Residential:
Active:  1,361
Pending: 251 (now this shows pending since August 1, 2014—there are more actually on the pending list, but homes that have been pending for 3+ months are either office errors or unusual circumstances, and including these may not accurately represent conditions.) 
Closed (since September 1st):  357
What does this mean?  How does it Compare?
In comparing September 2014 with 2013, we currently have about 200 more homes listed for sale, and we sold only 2 more this year compared to last.  This means that our months in inventory will likely begin to go up a little.  Homes may sit a little longer on the market, but they are still selling.  February through September were significantly stronger selling months in 2013 vs. 2014, meaning we sold more in 2013 than we have this year, and year to date totals back this up; as YTD we are down approximately 9.5% in the number of homes sold.  It is important to note that the median sale price is UP 2.3% YTD in comparison with last year.  So while we did sell more homes last year, prices are still holding in the current market this year.   I expect that prices will slip a little as motivated sellers try to compete with more homes on the inventory to get theirs sold.  Dropping the prices a little will likely yield faster sales, but overall I do not expect to see a serious price decline.  Personally I feel that there are many homes on the market that are simply a bit overpriced.  This is adding to the number of homes and causing the months in inventory to increase.   Median List Prices on homes are up 9.1% this year compared to last, another indicator that homes are likely listed a bit higher than the market will support. 
Should I Buy Now, or Wait….
In short…you waited too long already!  You should have purchased last year, or the year before (some of those buyers have seen a nice return already).  But hey, it's not too late!  If you're thinking about buying, it's a great time.  You'll have more to choose from, given the higher inventory and with the right buyer's agent, you can achieve a great price on a solid investment.   Interest rates are still very low, borrow some cheap money and get into the game.  Cash buyers and investors are moving strong on property here in St George.  
New Construction or Resale in St George?
New construction in St George Utah is still going strong.  Buyers have been gravitating for some time, to new construction.  You can typically get more for your money on a resale, since you won't have to purchase things like backyard landscape, window treatments, block walls etc…but for buyers who are unable to find exactly what they are looking for in a resale, new construction has been the way to go.  It's true, you will spend a little more and perhaps get slightly less quality or upgrades than homes built 4-6 years prior, but it's a great option to get exactly what you want if you're unable to find it in a resale.  
Top on the list for St George buyers is always:  newer, a view, 1700+sqft, private backyard, minimal yard maintenance, single level, near trails, and good location.  Does this sound like your list?  Here is a St George Homes for Sale Hot Sheet, follow this link to view available homes in the criteria mentioned above.  Call Paula Smith, your St George Utah buyer's agent 435-773-3751.  Does this describe your home and you're thinking of selling?  Even better…let me match your home up with one of my buyers!  Check out my St George Home Market Value tool.  This will give you an idea of what you can sell your home for.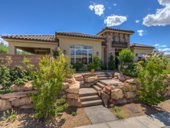 Be sure to check out my listing in Green Springs--this is an AMAZING, Like New, custom home with beautiful views and a large 3 car garage.  Click the photo for additional information.