Reflections of SunRiver St George Listing
2069 Ancestor Point Circle
Opportunity knocks! You can live in a rare 55+ gated community right here in St George. Reflections is a smaller, more exclusive section of Sunriver having their private amenities, and the ability to utilize everything you already love about the main SunRiver amenities.
$499,000
2138sqft
4 bedroom (or 3 bedrooms and a den)
Extended 3 car garage
Amazing upgrades
Featuring beautiful wood floors, quartz counters, double oven, and zero-entry showers (in both bathrooms—this has no step to enter). You'll love the Japanese soaking tub located in the master; this is more like a personal spa, having more depth than a traditional bathtub, and it takes up less floor space.
Home For Sale In St George Utah Gated Community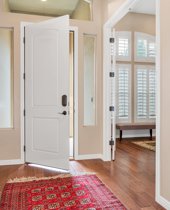 As you enter the home, you notice the grand ceilings and view out to the serene backyard. There is a double door entry room just off the entry, which is a dedicated bedroom (it does have a closet); however, it can make an excellent den or office as well. The expansive great room allows you to enjoy the beautiful backyard, having several larger picture windows. The fireplace adds to the ambiance of the classic wood flooring and neutral tones throughout the home. The kitchen features ample storage and counter space, by far more space than many Sunriver homes, and the large island creates the perfect entertaining hub, connecting the larger dining area and living room. The home will suit large gatherings or quiet evenings alone. The walk-in pantry with custom Elfa shelving is something you don't find in Sunriver homes. Space is abundant here, and outlets which allow for additional prep space.
Active Adult Gated Community ~ 55+ Gated Community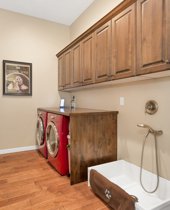 The dedicated laundry room features a custom cabinet surround built over the washer and dryer and a rinse station. The rinse station is a fantastic solution to use as a mop rinse, shoe/boot rinse, or a dedicated dog spa. The three-car garage, with an added bump out, will hold everything you need. More Elfa and suspended storage racks will serve your organizational needs for years to come. There is a water softener as well as a whole-home filtration system.
SunRiver Gated Community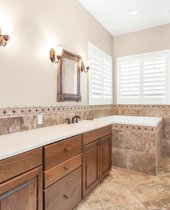 There is a half bath just off the hallway. As you make your way to the master, you'll notice the larger space and more windows allowing for natural light to fill the room. Into the bathroom, there is a double vanity and a large walk-in closet. All of the closets in this home feature electrical outlets, making these spaces quite versatile. The corner soaking-tub is next to the shower. Steps and a very secure (removable) handrail make the entry and exit of this tub more accessible than a traditional bathtub. When not in use, a custom top can be used on the tub for a display or storage. The soaking tub can be replaced with a traditional corner garden tub if desired (but you should try it first to realize how amazing it can be). If you have grandkids—they would LOVE it! Be sure to notice the shower entry: it is a large open walkway, allowing room to move freely, and it can comfortably accommodate a walker or a wheelchair. Two additional hand-held showerheads complete this space.
Down the hall are two more bedrooms and a bathroom (also with the zero-entry shower). One of the rooms has a small office set up in the closet. The Elfa shelves throughout the home are something to take note of. This storage solution is a fully customizable feature. You can quickly move everything around, and you can order additional components, such as drawers, racks, and organization storage.
Sunriver is one of the most sought after 55+ communities in the Southwest. Located in St George, SunRiver has something for everyone. Amenities include a Fitness center (with classes), indoor and outdoor pool/spa, Pickle Ball, Tennis, Basketball half-court, Billiards room, Library, Woodworking studio, Ceramics Studio, Walking Paths, an 18 Hole Golf Course (a public course but SunRiver residents receive a discount), and a Dog Park. There are 60+ social clubs offered, allowing something for everyone. Sunriver is nearly completed, having very few lots available. However, resale homes are offering a significant buyer advantage—giving the buyer more "bang for the buck" and the benefit of avoiding the time (and stress) to build (not to mention having mature landscape to enjoy from day one).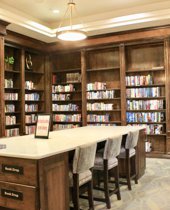 There are approximately 2300 homes planned for Sunriver, which share the clubhouse and amenities. While the clubhouse is significant (approximately 35,000sqft), wouldn't it be nice to have a smaller community? How about a gated community? REFLECTIONS! Reflections is part of Sunriver, but Reflections is a gated section having around 100 homes. The Reflections community has their OWN clubhouse AND POOL…but the best part is that Reflections owners STILL have access and full use of the main Sunriver Clubhouse.
I've been actively listing and selling in Sunriver (and Reflections), and the number one complaint I hear from residents is that they wish they purchased a larger home, and many wish they had a three-car garage. My newest Reflections listing is everything you can ask for, and it's ready to go. You'll be located behind the gates of Reflections and having use of BOTH clubhouses with a total of 3 pools.
Visit this home today, contact Paula Smith for a private showing, or take a virus-safe Virtual Tour!! The link is below, or click the picture--you'll need to CLICK AND PULL yourself through the home--call or email if you have any trouble figuring it out. It's a little like Google Maps--click where you want to go (you can click the red dot in the desired room--but you'll have to pull the screen with your mouse or finger to move in the direction you want to "look").
https://www.insidemaps.com/app/walkthrough-v2/?projectId=3ksCC9fFSG&env=production
I am Paula Smith, Associate Broker with RealtyPath of St George. I have been a licensed, full-time real estate agent in Southern Utah since 2006. I have been selling residential real estate during all of the changes in the market, as well as witnessing our St George area grow to become one of the fastest-growing cities in America. I keep my finger on the pulse and not only pay attention to what is going on, and I've accurately predicted future market conditions.
Allow me to be of assistance and earn your business. If you've got a home in Southern Utah that you're thinking of selling and you'd like a property market report, I can send that to you.
If you're ready to buy or sell, I'm prepared to make it happen. 435-773-3751
Find Paula Smith on Facebook